TEHNO DRAIN - PE and PP corrugated pipe for drainage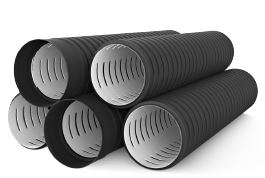 Corrugated polyethylene pipe SN4/SN8 double-walled for gravitational transport systems is delivered in balks of 6 m and they are fully equipped with bell mouth and elastic fitting. TehnoWorld produces corrugated pipe of the best quality, certified and accredited by Bureau Veritas. For drainage network, the pipes are punctured according to the customer's needs.
Accessories

In order to optimise our solutions for drainage networks, we produce corrugated pipe but we also commercialise a series of corrugated segmented fittings and injected fittings as well as branch pipes.